Even though I like to keep my nails done year round, I especially like it during fall. Fall is a great time to pull out such rich, beautiful colors both in your wardrobe and on your nails. My go-to brand of nail polish is OPI. It's such an easy brand to use I've drastically cut back on going to a salon for my nails. It's just too easy to do it at home! Here are some of my favorite fall colors:
OPI You Don't Know Jacques
This came out in the fall 2008 collection, which I own about half of. This is one of the most unique nail colors to hit the market in quite awhile and it's sure to become a cult hit. At first glance You Don't Know Jacques looks gray, but if you use it you'll see it has different tones depending on the light. Great color, and it's currently on my nails as we speak :)
OPI Parlez Vous Opi?
Another one from the France collection. A really great smoky violet color. Parlez Vous Opi is good if you want a purple but you don't want to go dark.
OPI Tickle My France-y
Another from the France collection! (Seriously, it's my favorite OPI collection ever.) Tickle My France-y can be a bit hard to describe. It falls in the taupe family but like You Don't Know Jacques it can look different depending on the light. It certainly has some shades of lavender as well. Very wearable color.
OPI Lincoln Park After Dark
Probably one of OPI's best known colors. Lincoln Park After Dark is many people's go to color for dark nails. It's a deep, deep purple so you get extremely dark nails without having to go goth. Fabulous color that I guarantee you've seen 100 times and probably didn't know. From OPI's Chicago collection.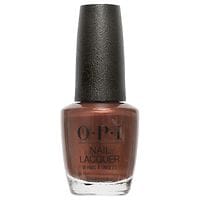 OPI Chicago Champagne Toast
From the Chicago collection as well. Very nice pinky-mauve color. Looks a little darker on than it does in the bottle. Would be very office appropriate.
OPI Malaga Wine
This is my go-to OPI red. Very wearable, looks good on every skin tone. What more is there to say? Every girl needs red nails sometimes!
Orly Top 2 Bottom
When I paint my nails I ALWAYS use Orly's Top 2 Bottom. If the name hasn't given it away, it's both a bottom and top coat. I re-apply the top coat every 2 days or so. This combined with the OPI polish gets me at least a week out of manicures and 2 weeks out of pedicures. If I do happen to chip a nail I just fill it in with polish and put another coat of Top 2 Bottom on. Problem solved!
Nail polish is a great way to try out a trendy color if you're not sure you want to include it in your wardrobe yet. It's a cheap and easy way to update your style and of course it's easy to get rid of once you're done with it! :)