I got some great feedback from the Football Fashion post! Not many comments, but a lot of blog hits and a few messages so I thought I'd turn it into a two-parter. (Psst - don't be scared to leave a comment! I love comments! The feedback is definitely apprecaited, in any form.)
Ok, so the first post covered what I think are some great basics. In this post, we're going to branch out a little more. You don't have to take this literally, of course. If you like parts of something, take what you like and find something that's a better fit for you. OR, you can e-mail me and I'll try to find something for you. Once again, my choices are based on the UA color palette and patterns. You pick what's best for you!
A sweater dress is extremely easy to wear. Dress it up with heels or boots, dress it down with flats and leggings, throw a belt over it - endless possibilities. This one is a favorite of mine and it's on sale: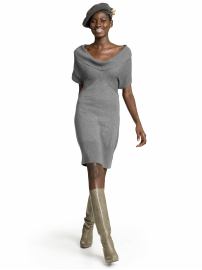 If you're feeling brave you could pair it with these houndstooth patterned leggings. Given the monochromatic look of these, I really don't think it's all that bold of a pattern. It's not like it's a traditional black and white houndstooth. Plus if you're pairing it with a knee-length skirt or dress, very little of the legging would be shown anyway. I think this is a good way to introduce a print to an outfit. You could also go with tights, either in a subtle pattern, black, or a bolder color if you felt like it.
This is a coat you would get a lot of wear out of. It's a very traditional shape and style but with a modern belt, collar, and print. This would really pop say, a solid black outfit. It's so chic and easy to wear a simple outfit, then really make a statement with your coat or accessories. You could also add a little print with a headband or with your shoes.
Accessories are truly the easiest place in your wardrobe to take a risk without being too risky. It's so simple to slip on a great ring, or belt, or hat without having to worry if you've gone 'too far' with your look. This ring is a great example. Is it for everyone? Probably not. Is it fun? Absolutely.
I've had so much fun looking around the web for great and (mostly) affordable football fashion. Football season is such a great time of year particularly in the south and I've enjoyed sharing some things that I would love to wear. Please feel free to comment with football fashion of your own, or comment or e-mail me with any questions you might have!