Tonight I was in Target trying to decide what kind of hairspray I should try. At least in my Target, there is a section with all the drugstore brands and then a separate section with the higher end brands (which I've heard you shouldn't buy from Target or drugstore type places, but that's a different point). Anyway, I was looking at the BedHead line when a woman walked up and pretty much randomly blurted out "I would NEVER pay $15 for hair stuff!" I'm not sure if it was directed at me or not, but it made me think. When it comes to clothes, makeup, and beauty products what are your limits? What are you willing to spend your money on and what aren't you?
Makeup and Beauty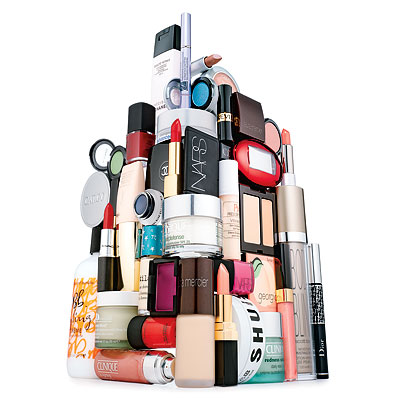 For most makeup, I have to go with the higher end stuff but some of that goes back to my sensitive skin. I do think there are a lot of great drug store mascaras, L'Oreal does a great job with most of their stuff, the Sonia Kashuk brush line is a great value, and I love a lot of NYX products. Also for makeup removers, a lot of skin care, and anything disposable (makeup wipes, sponges, etc.) I'd always go drugstore. For hair products I've written before about my love of Aveda. Again, some of that goes back to my skin and if it weren't for that, I'd probably use drugstore shampoo and conditioner. As far as products though, I've hardly ever found a drugstore line that worked as well as a higher end one. The John Freida line is a slight exception, I do like some of their stuff . I can't rememeber the name of it, but they make a product identical to the Fekkai Glossing Cream at a fraction of the price.
Clothes and Accessories
In general, I would say I like to spend money on bags and shoes. It really comes down to what you get a lot of wear out of though. If you love denim and wear jeans a lot, investing in a nice pair isn't a bad idea. A nice dress is a good investment because it should last you a long time. T-shirts, knitwear, and anything that could possibly lose it's shape or fade you probably shouldn't spend as much on. The same goes for anything trendy that you're not going to want in the near future. Something like a nice piece of jewelry, especially if it's classic can go a long way because you can be wearing a very simply outfit and it will completely dress it up or add some interest to it.
Ok, so those are some of my thoughts. What are you willing to spend your money on? What do you think is worth saving on? Let's see some comments! :)