Since Sex and the City 2 comes out next week, I'm going to do a series of posts. Some will cover my favorite episodes season by season, and some will cover the fashion in the TV show and both movies. Today's post covers Carrie's Top 10 Best Looks Ever. The article was originally on
InStyle.com
and I loved it so much I thought I'd post it so you all could see it as well!
Carrie Bradshaw changed the game of fashion: She made tutus work in Time Square and put Manolo Blahnik on the map. To celebrate the arrival of the much-anticipated sequel, InStyle sat down with series costume designers Patricia Field, Rebecca Weinberg and Eric Daman—as well as our very own fashion director Hal Rubenstein—to compile a list of Ms. Bradshaw's greatest hits.
The Top 10
10. Carrie's "Goodbye to Big" Louboutins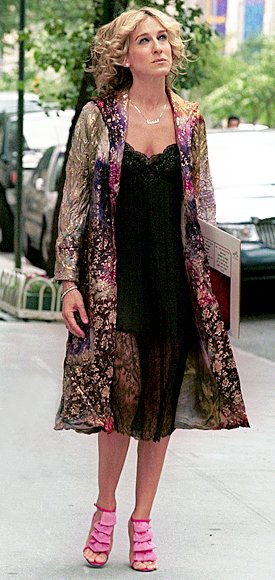 Who could forget that horrifying moment when Miranda's water broke on Carrie's brand new goodbye-to-Big pink ruffled Louboutins in Season 4? The ultimate shoe hound, Carrie Bradshaw made Manolo Blahnik and Christian Louboutin household names. But you'd be surprised who really had the big shoe idea: "Michael Patrick King really got the fashion part of it all," said Weinberg of the show's head writer (now movie director). "He was the one who said, 'Let's talk about Manolo Blahnik.'"
9. Carrie's Parisian Stripes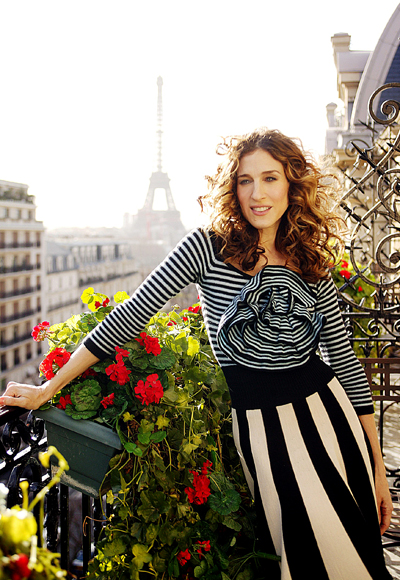 "There isn't anyone more synonymous with Paris than Sonia Rykiel. [Carrie's] in Paris, so she's wearing a classic Parisian knitwear designer," said Rubenstein of Carrie's all-striped ensemble in Season 6. "I wouldn't love this in N.Y.C., but it's so right for the scene. What could make more sense than being in the city of love with your love, wearing things that are soft and romantic—and with an interpretation of her signature flower, of course!"
8. Carrie's Signature Flower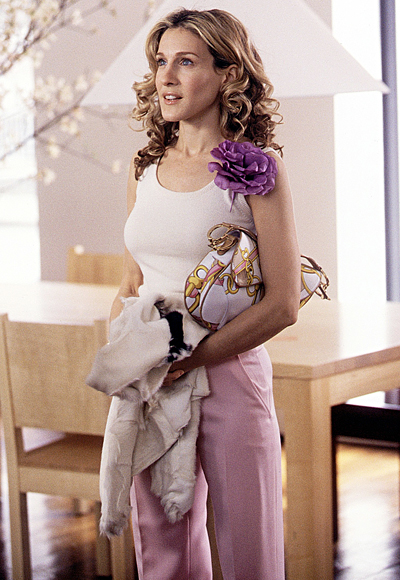 "SJP was really into the flowers. One day she said, 'Lets do a big flower.' They started small and got larger and larger and then it escalated into a comedy of flowers," Weinberg told us. "This is Holly Golightly's black sheath and pearls. It inspired real fashion to use flowers as accessories," said Rubenstein. We loved the rest of the outfit too—hello, Dior saddle bag! "This is a beautiful Americana tailored look, it's very Grace Kelly. Those pants were half-lined to the knee—I think I borrowed them a few times," said Weinberg of the gorgeous Season 3 Tuleh trousers.
7. The Fresh-Off-The-Runway-Vest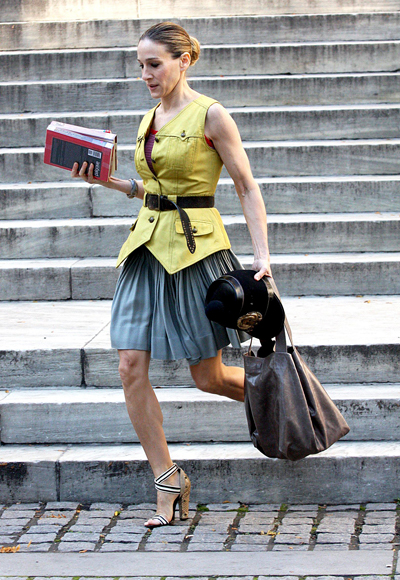 Getting your hands on covetable, hard-to-find fashion is easy when you are Carrie Bradshaw. "Everyone wanted their clothes on the show," said Weinberg. "Boxes and boxes would arrive daily!" The bold yellow Proenza Schouler military vest and studded strappy sandals Carrie wore to the New York Library in the first film were plucked straight from their highly-admired Spring 2008 runway.
6. The Newsworthy Dress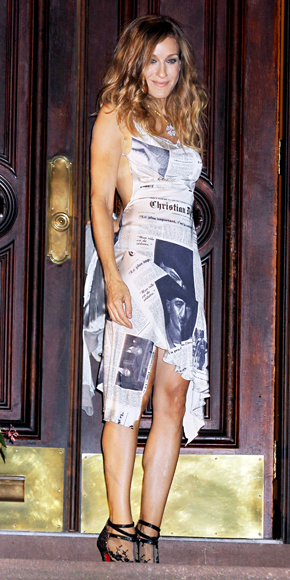 "There's a plot reason for it," spilled Fields when we asked why Carrie was spotted on the SACT2 set in the same John Galliano for Christian Dior newspaper-print dress that had people talking in Season 3. "She was in an experience that merits re-wearing it. You'll have to wait and see!"
5. The Nanette Lepore "Editor" Look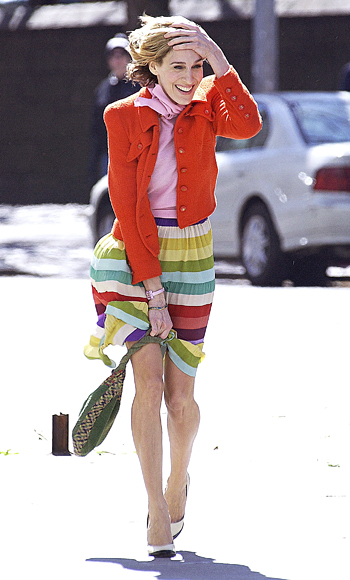 "She looks like a girl who works at a magazine," said Weinberg of Carrie's rainbow-striped Nanette Lepore dress, perfectly color-coordinated red vintage Chanel jacket, pink Club Monaco sweater and black-and-white Narciso Rodriguez spectator pumps. "I love the color wave." And a clear fan favorite from Season 5: "This is fun: mixing colors and prints, and high and low," said Rubenstein. "This, to me, is how people should dress."
4. The "Carrie" Necklace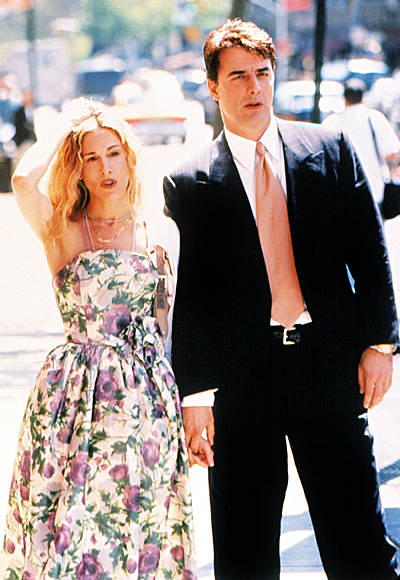 "One day my car broke down so I had to take the train and I saw all these great Italian girls with their nameplate necklaces," said Weinberg of the inspiration behind the iconic necklace. "For Christmas I went down to Canal Street and made Pat one that said 'Patricia' that she just loved. So then I went down and made SJP's there too!" Leave it to Carrie to pair such a downtown accessory with the most uptown of dresses. "I remember that beautiful vintage dress. It was from the '50s. I want to say it came from Twice in Miami," Weinberg recalled. "Pat and I would spend a lot of time in Miami. We'd get in her Oldsmobile and drive around to all our favorite vintage and thrift stores."
3. The "He Loves Me, He Loves Me Not" Dress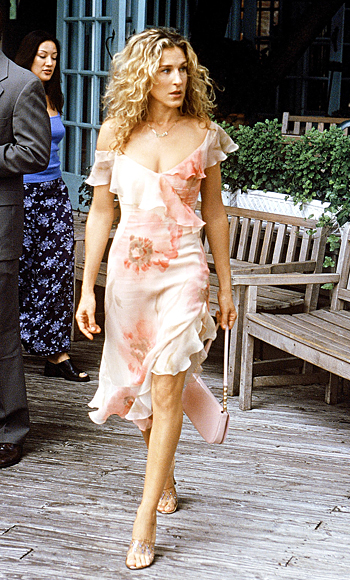 "That was a moment in the show where it was like, 'It's happening or it's not happening; he loves her or he doesn't,'" Weinberg said of the time Carrie memorably fell into the lake with Big in Season 3 wearing this Richard Tyler dress. "Richard made two of those dresses for us in less than two weeks time!" She paired it with a Louis Vuitton handbag and vintage shoes. "Those clear vintage shoes were so beautiful with little rhinestones pressed into the plastic, and that bag was a total church lady bag!"
2. Pat Field's All-Time Favorite Outfit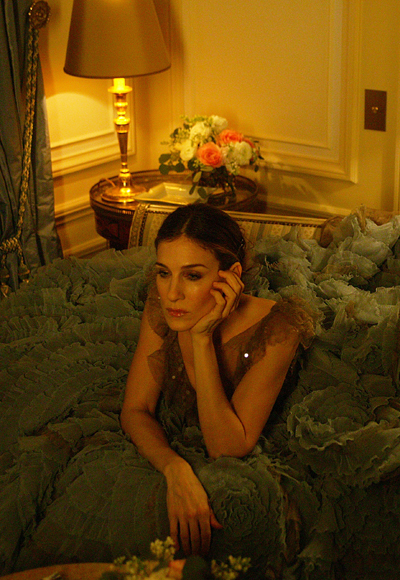 "That Versace gown, when she is in Paris waiting for the Russian, took you out of reality for that moment," said Fields of her favorite look from the series. The perfect gown for the not-so-perfect Season 6 moment: "The dress is every woman's daydream gown, just acres and acres of tulle and chiffon. You'd expect a dress like this to be pink, but it's this darkly romantic color—the perfect dress to be dumped in," said Rubenstein. "There's nothing more woeful than seeing a beautiful woman all dressed up with nowhere to go."


1. The Famous Tutu!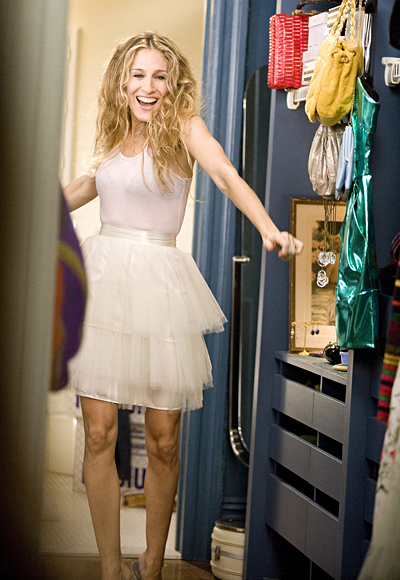 Field set the tone for Carrie's always-unexpected style when she opted for a tutu and tank look she described as "quirky" for the series' opening credits. "I remember I bought that tutu for $5!" said Weinberg. "[Our seamstress] had to duplicate it because we knew in the sequence it was going to get wet." We saw the famed tutu again in the first film when Carrie did a closet clean out (with the help of her best friends) before she moved in with Big. The girls' unanimous vote? A must-keep!
Pictures and commentary from InStyle.