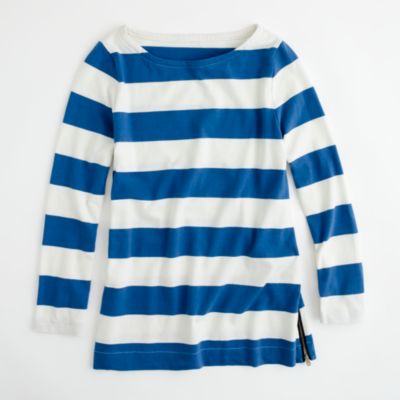 J. Crew Maritime Shirt
When we were at the beach, we did a little outlet shopping which obviously needed to involve J. Crew. I got a couple of things there, including this top (in navy stripes, but I can't find a picture). Clearly I didn't think this through very well. J. Crew thinks this is a summer top, and in Alaska or something I'm sure it is. But its 3/4 sleeves. And the weight of it is seriously thicker than what I wear in the dead of winter here. (Again, I didn't think this through very well.) The thing is giving me a heat stroke from me just looking at it. WHAT WAS I THINKING.
Ok. Vent over. It's cute, and when it cools off in December maybe I can wear it. Oh, one more vent - the J. Crew outlet feels that $88 is an acceptable price for the bubble necklace. No, J. Crew. No.